28 June Sunday 2009 14:34:51
I learnt an interesting story in our conversation. A star player who was adopted when he was only 6 weeks, Paul Duerden. He has never thought to search for his real parents, because the family that adopts him prepared a perfect medium to grow up.

Paul Duerden has played for Arkas Spor for two seasons although he has got many offers from the popular clubs of the world. By evaluating the last season, experienced player told about his interesting life story too.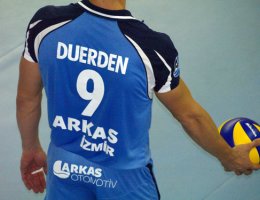 - How did you start playing volleyball?
I started volleyball in Canada in my highschool, I was 13 years old. My highschool had a great coach and I played many sports but was most successful at volleyball
-Is there another volleyball player in your family?
No, I am adopted and don't know my biological parents
- Very impressive story. Can you tell this a bit? Have you tried to find your biological parents?
I was adopted when I was six week. I haven't seen and recognized my biological parents. But I'm very luck because of my adoptive family. They gave support for my goals and reaching my dreams. This was perfect place for growing. I haven't tried to find my biological parents.


-Lets talk about the last matches of the league. Arkas was the favorite team of the championship. Although you were behind 0-2 in the series, you had managed to take it to ─░zmir back. Why did you lose against Fenerbah├že in the last match 0-3 after a sorrowful game?
We had the best team this year, and our team fought to win each match. Unfortunaely by the end of the season our team was exhausted. When we were back to Fenerbah├že, We did not give up fighting.But Fenerbah├že played well. We tried to win but we couldn't achieved.
-Some people had talked about the misunderstanding between you and Trainer Benitez during the season. It is also said that you disputed with head coach in the last match. Was there a serious problem between you and Benitez?
No. I don't have any problem.
-Arkas composed a high quality team this season and as a result of this, won 2 cups at the end. Challenge Kupas─▒ is the most important as you know. Can you tell us something about this successful story?
Challenge Cup was a huge success. Our team was proud of this success. This is very important for Turkish volleyball. So Turkish Teams can be more successfull and will see more respect.
-I think you had a worse season two years ago. But the last season, a strong squad was constructed. How do you comment the performance of Arkas last season?
The season before, our team never came together because group was constantly changed and because of foreign player limit, one foreign player had to be in the stand. Last year we didn't have any problem about limit of foreign players and the team worked harder than ever. As a result of this, we achieved our most goals.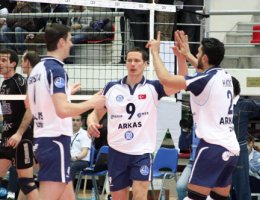 - There was an injury on your knee and were operated. I guess, this injury affected your performance negatively. What will you say about this injury?
I injured my knee in the end of october, but I wanted to play the rest of the season. So I did not have surgery. The real problem was "I couldn't work enough and this affected my performance and fitness this year. For example after final four I had to rest my knee until three days before the semi finals started. After the end of the season, I had one surgery too. Now I will strengthen my knee and will be more useful for next year.
-Have you extended your contract with Arkas?
Yes, I will be in Arkas next seanson too. I am glad to stay in ─░zmir. I hope everything go well and we woluld complete the season with three cups.
-Could you make an evaluation upon Turkey League? Is there any difference between this season and the last season?
The league seemed to have more balance and quality this year. Many teams could be dangerous and no match was easy. This made cheering competition environment.
-─░zmir audience is almost excellent. Everybody thinks that ─░zmir has an incredible fan group. What will you say about this audience?
The fans in ─░zmir got beter and their support was tremendous throughout the year and it was great to see many young fans at the matches. Hopefully this means that volleyballs is growing in Turkey.